2017 U of L Homecoming Parade Pictures posted on Facebook
GO CARDS! Link to pictures below.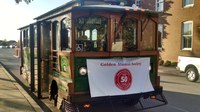 The Golden Alumni take to the parade on Molly the Louisville Trolley.
For the second year, Molly carried the Golden Alumni of U of L in the Homecoming Parade.
The pictures are posted here.
Please don't forget to LIKE Louisville Trolley on Facebook.
ENJOY!