2017 Susan Komen Run pictures posted on Facebook
We have posted all the pictures taken at the 2017 Susan Komen Run. Link below.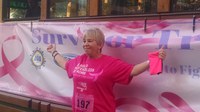 Molly the Survivor Trolley
Thanks to all the participants who signed the survivor banner and had their pictures taken. Thanks especially to Ford and the UAW for sponsoring the Survivor Trolley this year.
The pictures are posted here.
Please don't forget to LIKE Louisville Trolley.
ENJOY!