Louisville Trolley
Home of the first Louisville Toonerville Trolley. The only one restored and available for your event. Available now for rentals and charters in the Louisville, Bardstown and adjacent Kentucky areas.
Louisville's First Toonerville II Trolley.
We have the first of the original fleet of Toonerville II Trolleys that ran the streets of Louisville and gave Downtown its Old Louisville Charm. With their distinctive open balcony backs, these trolleys were especially popular for weddings, events and outings.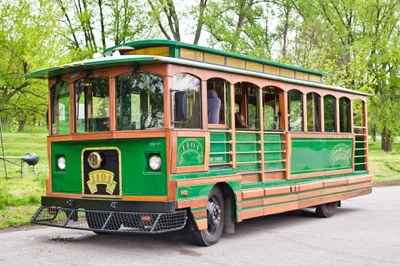 In 2006 TARC was prohibited from providing charter services and the open backed fleet was parked with only occasional excursions for some of the summer Trolley Hops.
In 2012, the last of the open backed fleet was sold off effectively ending these historic vehicles' presence on the streets of Louisville.

Almost...
We purchased Toonerville Trolley 1101, the first of the fleet and have lovingly restored it's solid mahogany exterior and steel framework to bring it back into service in the Louisville area.  With an upgraded sound system complete with iPod and Bluetooth connectivity, Louisville Trolley proudly makes this historic trolley available once again to 'Cruise the 'Ville' for your pleasure.
'Molly' seats up to 21 passengers and has standing accommodations for 16 more. Complete with a handicapped accessible lift, she can accommodate two wheel chair assisted passengers. Its open air, summer design is perfect for spring, summer and fall weddings, proms, bridal events, parties and special events and can be closed up once cooler weather sets in.
Peripheral Seating means the seats line the walls of the trolley and face each other so guests can spend time talking with each other instead of having to twist around to see who is near.
A wireless microphone system is available for tour guides and corporate hosts.  New Orleans style Jazz band, Bluegrass band or other special entertainment can be arranged for corporate or other special events. (Special entertainment must be scheduled at least four weeks ahead of event date.)
Features
Handicapped accessible.
The Classic Toonerville II style you remember and have come to love.

Seats 21 (or 17 and up to two wheelchair assisted passengers).

Leather handstraps for an additional 16 standing passengers.

Solid Mahogany seats, interior and exterior panels.

Brass rails, poles and fittings inside and out.

Rear balcony, open and fitted with brass rails. Great for photo shoots.

Custom sound system with Bluetooth connectivity.

Peripheral seating allows guest interaction. No school bus seating here.

Wireless microphone system for tour guides and corporate hosts.